Lifestyle
Pattern or Monochrome? A Swimsuit Style Debate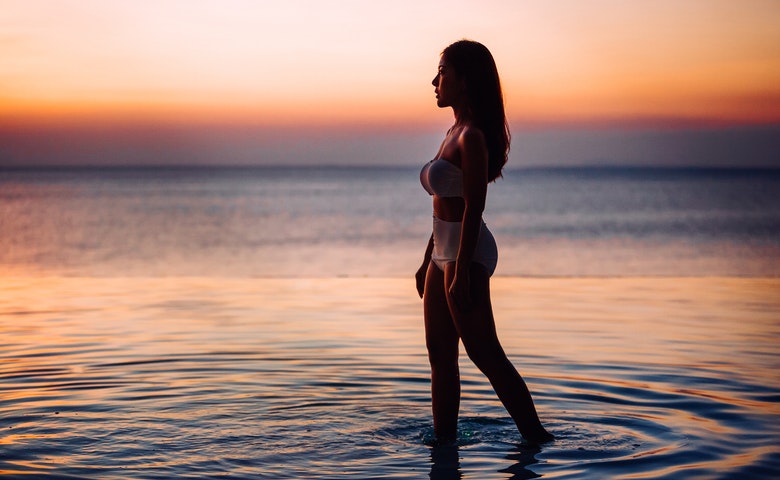 Have you ever looked through a catalog or searched online for a new swimsuit? Those models make every suit look fantastic. The trouble is, everyday women can't make every suit look as good. It's not that your body is flawed; it's that the suits you pick just aren't meant to flatter everybody.
Take patterns versus monochrome color. Surely you have noticed that certain suits look great on you, but others look, well, lackluster. Here's why these suits don't seem to flatter, and how you can pick a suit that flatters you every time you wear it.
Patterns Trick the Eye
Depending on what the pattern on the swimsuit is, you may get a very different view wearing it. For example, horizontal lines draw the eye in from side to side, making the striped object look much wider than it is. Vertical lines draw the lineup and down, making the exact same object appear narrower. If your figure is fuller than other women's figures, opt for patterns that "move" vertically and pull the eyes down and in toward the center of your body. It will slim your figure and give it more curves where you want curves without looking really wide.
Geometric patterns or zig-zag patterns on the vertical axis also have a similar effect. The difference is that more dynamic and colorful suits can be worn rather than just wearing something with vertical stripes. Lines and folds in the cloth of the swimsuit that is cut and sewn diagonally also have this effect.
When patterns are not intentionally placed in the design of the swimsuit, they might be inserted accidentally. This occurs when the designer uses cloth that is already patterned, and then the suit ends up with a pattern that is not always the most flattering. For example, huge flowers all over a plus-sized women's swimsuit can actually make a plus-sized woman look even bigger as her body stretches out the flower pattern in the suit. A smaller print is ideal for the fuller figure, while a larger print is ideal for a petite figure trying to look bigger.
Monochrome Can Be Flattering for Some
Monochrome suits can be flattering for some skin tones and body shapes. The trick is to find a suit that doesn't make your skin tone look washed out or make your figure look fuller in areas where you don't want to look bigger. For example, black is very slimming, but on very fair skin it can make you look too pale and almost Goth-like. A vibrant yellow suit looks great on medium brown skin, and a red suit looks stunning on really dark brown to black skin.
The cut of a monochrome suit is also important. Folds, ties, straps, no straps, and even a bit of flounce or metal bling changes the shape and styling of the suit and draws emphasis to the areas where these details are added. Women with smaller breasts look really flattering in a monochrome suit with a ruffle over the breasts because it draws attention to the chest and makes the breasts look larger. High-cut leg holes make short legs or thick thighs look longer and more slender.
If you pick a monochrome suit, pick a color that flatters your skin tone, eyes, and hair color. Pick a style and cut that flatters your figure. There are more than enough styles of monochrome suits out there that can do a really nice job of giving you that cover model look.
One-Piece, Two-Piece, and Mono-Kinis
One-piece suits come in all styles, colors, and patterns. They are often the easiest type of swimsuit to select to flatter any woman's body if you know what to look for. A two-piece suit, of course, is the bikini. There are now dozens of different styles of tops and bottoms you can mix and match to make the perfect suit. Every top and every bottom does something a little different for your figure.
A monokini is the raciest, most daring, and most revealing suit you can buy. This is a suit that is both a bikini and a one-piece suit in one. The top is always connected to the bottom with the least amount of cloth or straps possible, although there are some cut-out styles that bare a shoulder and half your midriff while still staying connected on one side of the suit. Again, the importance here is picking a suit that flatters your skin tone, your shape, your assets, and is something you love looking at in the mirror.
The Great Swimsuit Debate
So, what is better? Monochrome or patterned? One-piece or two? Maybe the connectedness of the two bits of monokini is right for you? The truth is that if you follow certain design principles you can find many different suits that will fit and flatter you and make you happy. Keep this in mind the next time you look to buy swimwear online.