Lifestyle
Create a Rustic Retreat in your Garden Room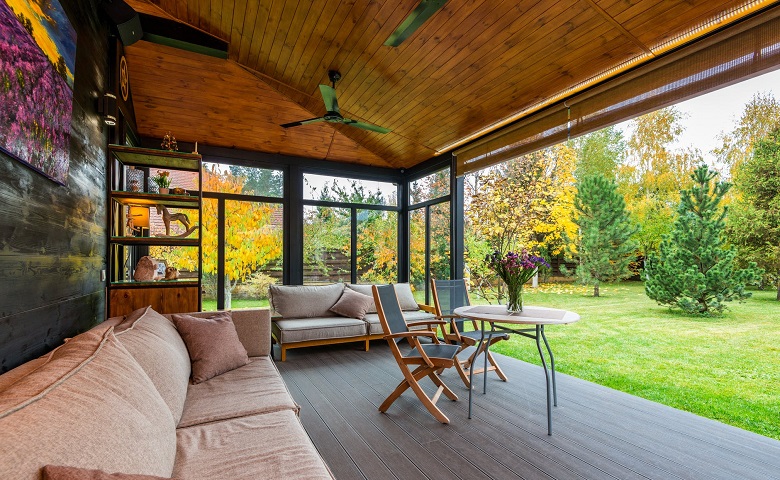 Many of us dream of escaping to a little secluded cabin in the woods, far away from the stresses of modern life. A place to snuggle up and relax in front of a roaring fire with a cup of warm cocoa. Unfortunately, for most us, booking a weekend away in the wilderness just isn't an option.
But don't worry; you can make your own rustic retreat of peace and tranquillity. When he wanted to get away from it all to write he would tell his secretary to tell visitors that he was 'in London'. London being of course the name he had cleverly given his writer's cabin at the bottom of his garden.
Here are some inspirational tips on how you can transform your garden room into your own little 'London' getaway…
Walls
I love the kitschy log cabin aesthetic – they always look so warm and inviting, just like the Ingles' cabin in Little House on the Prairie. So if you have a wooden summer house, don't think that you have to cover the interior with paint and plaster; turn it a key feature instead!
Check out the image above for inspiration – in a modern approach to the traditional timber cabin, wooden panels have been used as part of the lighting design. A skylight above a tilted wooden wall artfully bounces natural light off the redwood panels by day; fluorescent strip lights omit a soft white glow from within the walls at night.
Furniture
For a look that's timeless, you can't go wrong with outdoor furniture.  Solid oak tables and chairs work well because oak is a very hard-wearing timber. It is waterproof and the furniture will last a lifetime if it's looked after well. So if you do include small dining set in your summerhouse, you can move it out into the garden during the summer months.
Don't worry about being matchy-matchy with your wood textures; mix them up for an authentic vintage look with a relaxed feel.
Accessories
Antlers on the walls and displays of old trinkets will give your garden room a relaxed, quirky feel. This space isn't formal, so think of accessorising this space with old junk shop finds and antiques.
Recapture that sense of lost youth with whimsical accessories; you want things like vases and old glass jars you used to keep minnows in as a kid. The cabin in the woods look is low-fi, so leave your techy gadgets inside and instead use the space to read, play cards or just relax with a glass of cloudy lemonade on a hot summer's day.
Fabric
Brightly coloured, mixed patterns in contemporary designs will create a nice juxtaposition against the traditional wood and will create a cosy, lived-in feel. Don't forget to buy a couple of sheepskin throws to snuggle up with too.
If your garden cabin doesn't have any insulation and an electric heater is expensive to run, consider decorating the walls with thick tapestries or quilted 'artworks' which not only look great, but help trap the warmth inside too.
Lighting
Although oil lamps are traditional and romantic, they don't really match up to modern requirements for task lighting, so go for a contemporary fitting. As this room is a heavenly retreat (that's the plan, anyway!) you can opt for very soft lighting with fairy lights and maybe only a small lamp for reading in the evening.
Alternatively, for a design statement, opt for a character chandelier that makes an impact. This coke bottle fitting ties in with the rustic 'upcycled' look and acts as a focal point – this is ideal since your garden house is unlikely to have an authentic, cabin stove or fireplace!
What other tips do you have for creating a rustic retreat in your garden room? Share in the comments below.